Meteor Mini Box

The culmination of knowledge of every guitar we've ever designed. The Meteor Mini Box is insane. Think effortless but controlled feedback. Think tight articulation with bounce in the lows. Midrange that sears. Light as a feather. Ergonomic and balanced. Super inspiring.

Specifications:
24.625" scale length (standard)
Full Hollow
Custom Wound Pickups
Hipshot Hardware
Jescar Fretwire





---





Meteor Signature

Top of the line Meteor solidbody. Thick juicy high end tone. Similar to other company's Private Stock...these are our "Signature" builds - the best stuff we make.

Specifications:
24.625" scale length (standard)
Full Hollow
Custom Wound Pickups
Hipshot Hardware
Jescar Fretwire

---
Meteor Standard

This is the same guitar as the custom, but without binding and full blown inlay. The aesthetics are different, but the build quality is identical.

Specifications:
24.625" scale length (standard)
Custom Wound Pickups
Hipshot USA hardware (tuners and bridge)
Premium Fingerboard w/ dots
Jescar Fretwire
Tummy Contour





Maple Top

This is the traditional Maple on Mahogany body type of build. Tried and true. Many edits can be made to this combination to suit just about any player and style.


Paduak Top

Our favorite tonewood. The difference from maple is that it's an oilier wood and has a different EQ response. It's very hard so like maple, it's bright, but some of the highs are subdued a tad and replaced with heeps of beautiful upper midrange. Makes for a great rock tone without mudding out. Works great with humbuckers and destroys with P90's

*All lumber options are available (granted it's ethically harvested), and we would be happy to accomodate custom builds.
---
Electronics - 6-Way Switching
We use Freeway 6-way switching on all dual humbucker models. For a complete list of options available,
Free-Way3X3Diagrams.pdf
click here to download the Freeway PDF.
| | |
| --- | --- |
| Standard Wiring | Another Favorite |
Gallery
---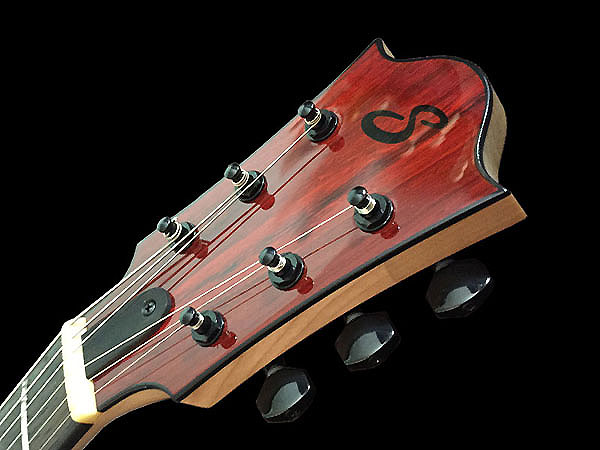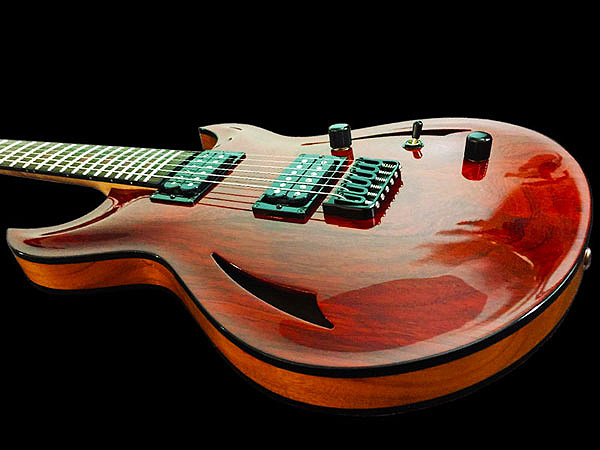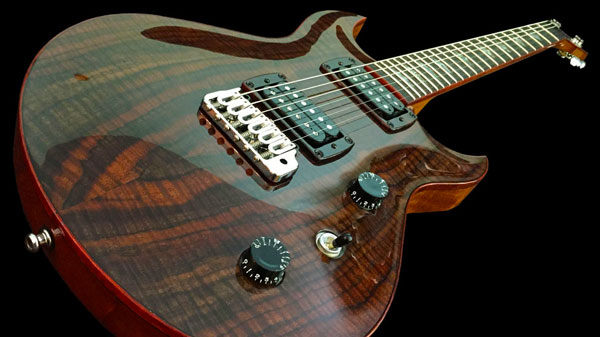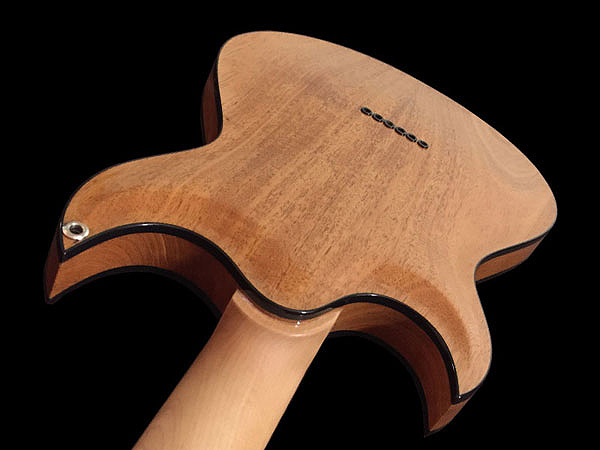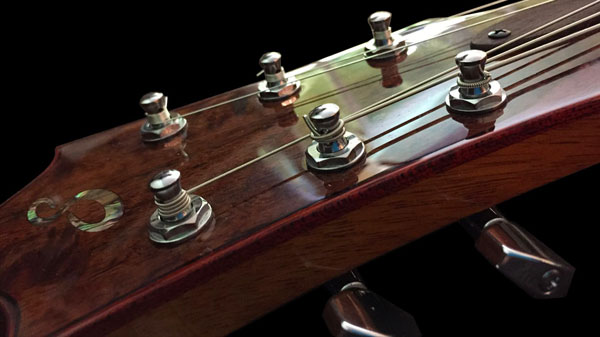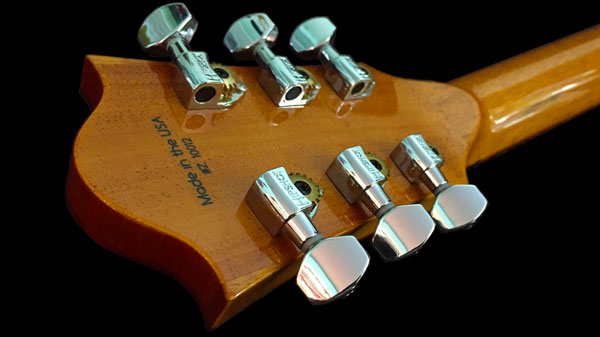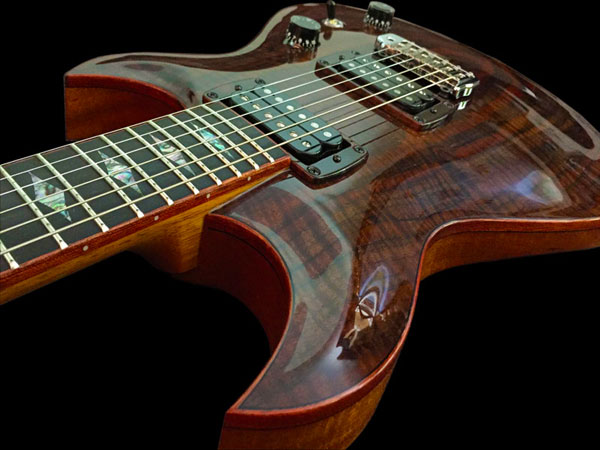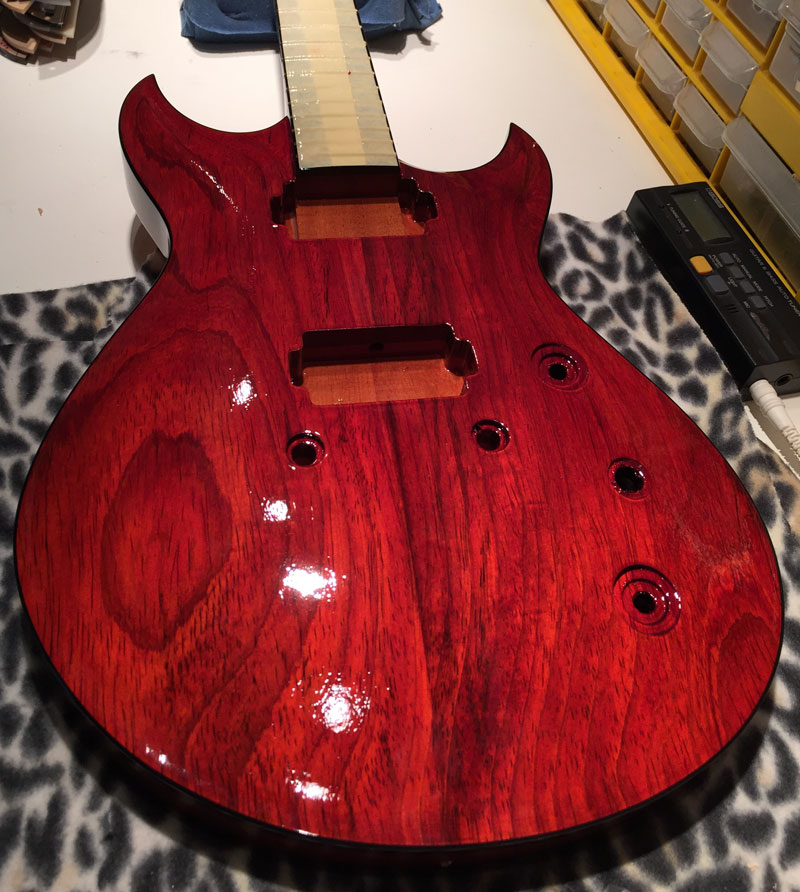 Finish chokes tone - the thinner the better. Here is what it looks like after sealer coats. It's pretty much hosed on thick. From here, it gets sanded waaaay back almost to the wood...the secret of getting a super flat and thin finish. Most companies use extra material because a sand through is disastrous and costly as the whole process needs to repeated. We live on the edge and work the extra mile on these steps to ensure a proper thin finish. Poly or nitro, it doesn't matter. It's the thickness that matters most.